Miscellany
The Scots of Kearny, New Jersey – home of The Sopranos
Claire Prentice 22 March 2010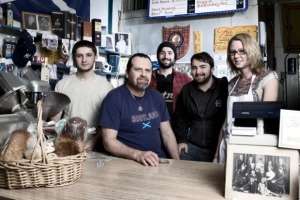 The smell of freshly baked Scotch pies hits you straight away. Through the back of Stewart's butchers, a group of hipsters who look as if they belong in an indie band are busy pulling trays of pies out of industrial ovens and ­replacing them with racks of unbaked pies. "I've tweaked the recipes a bit over the years, made them a little healthier, but they aren't very different from my grandfather's days," says Alastair Stewart, a gruff pony-tailed man in his forties. "This is him when he was young," says Stewart, reaching for a faded black and white photograph. The large family group looking into the camera are all dressed in their Sunday best.
It was in 1929 that Albert Stewart, Alastair's grandfather, emigrated from Paisley to America, bringing his new bride, Gracie. As with all the Scots, he came for work, and in time he opened a butcher's shop on Kearny's high street, Kearny Avenue. Eighty years on, Alastair, or Al as he is known to friends, is running the shop, which is festooned with Scottish flags, Robert Burns tea towels and Rangers and Celtic banners. A steady flow of customers comes in to buy black pudding, haggis, lorne sausage and pies.
Just 30 minutes' drive from the towering skyscrapers of downtown Manhattan, Kearny is a nostalgic slice of Scotland deep in the heart of New Jersey. It is a flat, grey, unprepossessing town but what it lacks in looks it more than makes up for in history. The story of the Scots in Kearny goes back to the 1860s, when two Scottish companies, Paisley thread mill Clark's and Kirkcaldy ­linoleum company Nairn's, opened factories in the area. They wanted to avoid paying import taxes on goods shipped from Scotland and Kearny's tax breaks and location, at the confluence of the Passaic and Hackensack Rivers, made it an ideal choice. Word got out back in Scotland that skilled workers were needed.
By the 1960s, there were 21,000 Scots living in Kearny (as of the 2000 United States Census, the town's population was approximately 40,000). They got jobs as machinists, domestics, moulders, boilermakers, clerks, printers, electricians, mechanics and factory workers. There were so many people from Paisley living in Kearny it was dubbed "Little Paisley" and the tram driver would shout out "Paisley Cross" when he reached the crossroads at Bergen and Kearny Avenues. The new arrivals brought traditions with them – football, Highland dancing, pipe bands, pubs, fish and chips and Jimmy Shand. The tight-knit community looked out for their own, setting up a benevolent fund to help out fellow Scots in need.
The intervening decades have brought many changes but the Scottish accents and influences remain, from the chip shop and butcher's to the Presbyterian Church, the Scots American Athletic Club and the Wallace Park. Even as new arrivals have dwindled as America has introduced tighter immigration controls, Kearny has thrived, acting as a focal point for homesick expats from hundreds of miles around who come here to stock up on their favourite Scottish foods and converse with their countrymen. The local Scottish businesses, though fewer in number than in their heyday, have been give a new lease of life by the internet, opening up new markets across North and Latin America.
Stewart sells meat products made to his grandfather's recipes as far afield as California, Texas, Puerto Rico and Mexico through his internet mail order business. "I made so much haggis for Burns night in January that I was almost in tears," recalls the butcher. Kearny's newest arrivals, who've mostly come from Latin America, join the queue of Scots at Stewart's. Though he has gathered a young team around him, Stewart, who is unmarried and has no children, is reluctant to share the family recipes with non-family members. He says, "I'm the only one who knows them. I don't even have the haggis recipe written down, though I suppose I should in case anything ever happens to me. I don't know what will happen to this business, eventually."
His staff include art student and keen football player Stephanie Miller, whose grandparents emigrated from Scotland. Her uncle was Hugh O'Neill, who signed for Rangers in 1976, and played in the reserve team. "My grandma likes that I work here, the heritage," she says. "And she always asks me to bring home pies." Though herself an American, growing up in a town full of Scots means Miller has always been aware of her roots.
The rusting sign hanging above the Argyle fish and chip restaurant further along Kearny Avenue might have seen better days but inside, Musselburgh-born John Nisbet, and Joan, his Northern Irish wife, are doing a roaring trade. The walls groan under the weight of Scottish memorabilia – pictures of Glasgow's George Square and the Edinburgh Military Tattoo, a faded painting depicting the battle of Culloden and a sporran once worn by Harry Lauder. Nestled among the nick-nacks and the tartan tablecloths is an article on the Argyle from the New York Times and a picture of the Nisbets with the actor James Gandolfini (Kearny's other claim to fame is that the HBO mafia TV drama was filmed here). The fictional pork store where mobster Tony Soprano (played by Gandolfini) and his Jersey crew hung out was just along the road from the Argyle.
Friends and regulars pop in to the restaurant and soon the interior is filled with the welcoming buzz of laughter and conversation. Waiters scurry to and fro carrying plates piled high with fish and chips. The Nisbets bought the restaurant nearly 30 years ago. Today the customers include Kearny librarian Anna Dixon, her daughter, Anne-Marie, and Anne-Marie's policeman husband, the son of Dundonians. Dixon came to America from Bellshill in 1961 to work as a nanny. "When I first came here it was just like going to Scotland," she says. "You didn't feel like you were in a foreign country. Everywhere you went you heard Scottish accents." Dixon's own accent hasn't changed much in 50 years, something she puts down to the fact that all her close friends are Scots. "I miss Scotland a lot. I've often wondered what it would be like to move back but my life, my family and grandchildren are here." Dixon phones her relatives in Scotland at least once a week and Anne-Marie keeps in touch with them on Facebook.
John Nisbet, a tool and die maker by trade, was 26 when he arrived in Brooklyn in 1962. A friend he met through his local bagpiping club told him of a town which was jumping with Scots. "The minute I got here I never looked back," he says. "Kearny was a ­thriving place. I'd never met a Glaswegian till I moved here."
Right on cue, the booming and ­unmistakably Glaswegian voice of Duncan Stalker fills the restaurant. He and his wife, Carol, have driven down from Connecticut for the day to visit their Scottish friends. "My sister came out here and she loved it so I came out with Carol and our two kids and got a job as a driver for the CEO of Paramount Pictures while Carol looked after the house," he says. "I met all the stars. Sharon Stone was my favourite." The Stalkers have brought their neighbour, Goa-born Ninorah Brookshire, whose husband is from Inverness. "I'm here to buy kilts for myself and our two children for a late Burns Supper we're going to in Connecticut," says Brookshire.
After catching up on all the news over a plate of fish and chips, Brookshire and the Stalkers pop in to The Piper's Cove next door. The gift shop, also run by the Nisbets, sells everything from tartan tea-cosies and Susan Boyle CDs to Scott's Porage Oats and Irn-Bru. "We get Scots coming from all over to stock up on their favourite goodies," says John Nisbet. Along with family and football, the staff and customers agree that the newspapers are the thing they miss most about home.
Several doors along, at the kilt hire shop, Susie McKeown and Donna Austin have been kept busy with a big order from one of the Scottish banks that was holding an event in New York. The small shop is filled with racks of kilts in every colour combination imaginable, from traditional tartans to modern, casual "utilikilts". The shop is kept busy year round with hires for weddings, parades, Highland Games, high school graduations, Burns Suppers and St Andrew's Day events.
McKeown moved to Kearny from ­Glasgow's Easterhouse in 1972 with her plasterer husband. "Everybody told me I should get out here and make my fortune," she says, laughing. "I'm 74 and I'm still working – so when is the money coming?" She is pressing a kilt while talking. "One thing this place really had going for it was the social life," she says. "It was great, we'd have a sing-song and a good laugh." She regales her colleague, Austin, the grand-daughter of Scottish immigrants, with stories of the old days. "It's all changed but I love working here," says McKeown. ­"Everyone comes in for a wee blether."
The social life of the Kearny Scots revolves around the Scots American Athletic Club (SAAC), the scene of many a fledgling romance over the decades and the place where John and Joan Nisbet met in 1973. "A lot of us came intending to stay for a year but then we got married and stayed," says Joan. "I wouldn't want to be anywhere else. People got opportunities here that they wouldn't have had at home, and our kids did too." Painted a brilliant shade of blue and white, the otherwise uninspiring concrete box that constitutes the SAAC sits at the junction of Highland and Patterson Avenues. Inside, Alice Duffy presides over the bar with the kind of friendly, no-nonsense authority that generally takes years to perfect. A handful of regulars sit perched on stools at the bar. In an anteroom, a group of men sit glued to a large screen TV, watching a live Rangers football game. Deafening shouts indicate that Rangers have just scored a goal.
"I loved Kearny from the moment I got here," says Duffy with a Sheena Easton-esque transatlantic twang. She is the only female bartender in the club.
As well as providing a place for the Scots to socialise and watch the games, the SAAC organises golf tournaments, football matches and trips to the races. It is putting on a bus to take the Kearny Scots to march in the Tartan Day Parade in New York on April 10, at which John Nisbet and his 27-year-old son, Colin, will be among the pipers. Sean Connery has visited the club, while Rod Stewart came to Kearny to watch a Celtic game when he was doing a gig in New York a couple of years ago. "This is a very important place, it really helps keep the community together," says one customer before returning to his pint.
Visiting the Scots in Kearny is like going back in time. Those who remain came here before the 1970s and the version of Scotland they brought with them has all but died out in the cities and towns they left behind. Along the waterfront, Wallace Park was named in honour of William Wallace and pays tribute to the influence of Scots through the ages on American culture. Today it is covered in snow and a saltire flaps limply and melancholy in the breeze. There's not a soul in sight.
Though the Scottish community has thrived in Kearny for a century and a half, with generations of friends, relatives and neighbours coming out after hearing glowing reports of the opportunities that existed "over the pond", tightening immigration controls have all but put a halt to the new arrivals. In some cases, descendants are proudly carrying on their parents' and grandparents' traditions but others have since moved to other parts of America, often motivated by economic opportunities just as their relatives were before them. It is a source for anxiety for the older residents who clearly feel that Kearny as they know it will not exist forever. "We just lost a lady last week," says John Nisbet. "We buried her yesterday. It's a slowly disappearing world."
Two of the Nisbets' four children have relocated to Florida, while their daughter, Deirdre, and son, Colin, have stayed. The Nisbets say they feel blessed, knowing their children will take over their business when they retire. "As far as we know this is the oldest Scottish gift shop, bagpipe and Highland regalia shop in America," says Colin, taking a break in the cluttered back shop after the lunchtime rush. "We want to capitalise on that. There is a big market out there. My sister and I have lots of ideas for the business. We don't always agree with our parents. We wanted to start stocking a T-shirt which says 'Sex, Drugs and Sausage Rolls' but mum refused." Colin, who has a degree in film and computing from New York University, surprised his parents when he announced he wanted to take over their fish and chip restaurant.
"Though I was born here, I feel Scottish," says Colin, reflecting on the town's future. "Kearny is changing but it is up to people like me to make sure the traditions don't dwindle and die out."
Source: HeraldScotland
How do you spell the color grey or gray?
Have you often wondered "Am I spelling g-r-e-y correctly...or is it g-r-a-y?". How do you spell the color grey or gray? Well, the answer is they are both correct. There are two acceptable spellings. Gray is used primarily in the United States and other areas that use US English. Grey is used in Great Britain and areas that use UK English.
The only exceptions to these rules are:
1. Proper nouns such as a last name; Earl Grey and Zane Grey would not be spelled Gray and L.H. Gray must be always be spelled Gray.
2. Greyhound as in the dog breed.
3. Food irradiation (quantity of radiation energy absorbed by the food as it passes through the radiation field during processing). 1 Gray = 0.001 kGy = 1 joule of energy absorbed per kilogram of food irradiated.
When all else fails..
grAy is how it's spelled in America
grEy is how it's spelled in England
"Is it grey or gray?" is likely one of the most frequently asked questions in regards to common misspellings, however there are many other commonly misspelled words related to regional differences. In most cases American spellings seem to be a bit more phonetic.
According to a survey conducted both in the U.S. and England, many people believe grey is an actual color perceived as the hue of "silver", and gray is a sliding scale of values from black to white.
According to an interesting and authoritative note in the Oxford English Dictionary, the spelling "gray" was championed by Samuel Johnson, English writer and lexicographer and other English lexicographers; but in the twentieth century "grey" became the established spelling in Britain anyway.
Meanwhile, in the United States, "gray" became standard somewhat earlier. Examining two nineteenth-century U.S. dictionaries--Webster's Academic Dictionary (1867) and Webster's Condensed Dictionary (~1897)--and both include entries for "grey" that refer readers to "gray" for the term's definitions. So what is the difference between grey and gray? On the one hand, this indicates an early preference in the United States (or at least at Merriam-Webster) for "gray"; but on the other, it suggests an incomplete victory, since British spellings such as "labour" and "labelled" don't appear in those dictionaries at all.
Source: http://www.greyorgray.com/
'Savage Scots': wish you weren't here
20 August 2010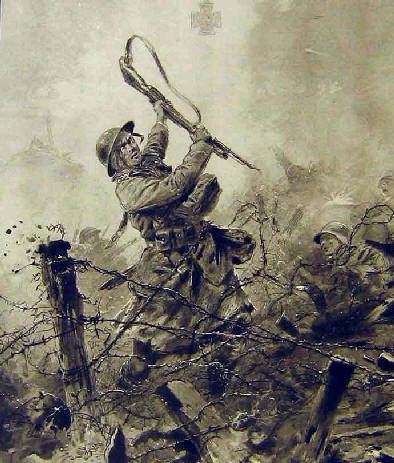 REVEALED: "the devils in skirts" in all their glory. A military historian has unearthed German propaganda from the First World War which shows how the Kaiser's army demonised Scottish soldiers as savage barbarians.
The image was used on a postcard distributed by German occupiers in Belgium and France and seeks to play on the racist fears of the local population by sarcastically depicting "Some Champions of Civilisation, Liberty and Progress" as a crowd the Germans regarded at the time as being barbarians. It includes Arabs, Africans, Indo-Chinese and Sikhs.
In an ominous precursor to later Nazi propaganda, the group of people to be shunned includes a Slavic-looking Russian and a bearded French soldier with Semitic features. Some of the Africans are clad in native dress and the group even includes a Red Indian in reference to Canadian forces
But most prominent on the postcard in the crowd regarded by the Germans as undesirables is a kilted Highland soldier in the foreground with two more - one with black warpaint on his face and the other with a drink-induced red nose - in the background.
Historian Matthew Low, who found the card in a junk shop while researching in France, said: "I was very excited to discover this card. It is a rare example of how the Germans viewed the Scottish troops as bloodthirsty savages.
"We know that the imperial German army declared the Black Watch the regiment 'to be most feared' and frequent references were made to kilted Jocks as 'devils in skirts' and 'ladies from hell'.
"I have looked at thousands of First World War postcards and never seen anything like this. I don't think it would have been very well received by the French and Belgium populace, so I doubt whether they would have kept hold of them too often."
The ferocity of the fighting between German and Scottish forces can be gauged from the huge Scottish losses. Over 26 per cent of Scottish servicemen died, compared with a UK figure of just 11 per cent.
Low said: "Much of the German detestation of the Scots came from their reluctance to take prisoners and some historians like Niall Ferguson have speculated that the war on the Western Front may have dragged on because German units were reluctant to surrender to the Scots."
He added: "The image of the kilted warrior became tremendously romantic during the war. Sometimes English regiments taking up a new position in the trenches would shout to their enquiring opponents that they were the Black Watch just to scare them. Others, like the Tyneside Scottish, were desperate to wear kilts despite their impracticality. The kilts and bagpipes were psychological weapons.
"A copy of the postcard has now been given to the Gordon Highlanders Museum in Aberdeen.Gary Sheffield, Professor of War Studies at the University of Birmingham, said: "Judging by some of the uniforms, it is a fairly early postcard, probably from 1914/15.
"They might be saying that Scots are savages, but I think it also saying that the British and French are bringing the barbarians over from Africa to fight for them. Because you see the French soldier in the back of the picture, and a few other British soldiers.
"The Germans had a view that it was unfair against the rules of so-called civilised warfare to bring in Africans and Indians.
"The Germans particularly highlighted Scottish troops because they were easily recognisable because of the kilts. And the 51st Highland Division and the 15th Scottish Division did have pretty formidable reputations."
Tim Newark, the editor of Military Illustrated magazine, said it confirmed a European view of the Highlanders as savage soldiers.
"Highlanders sometimes liked to play up to such a reputation," he said. "Some 79th Cameron Highlanders during the campaign before the Battle of Waterloo in 1815 made impromptu frying pans out of French cuirassier breastplates.
"As they were frying up some steaks, they invited some Belgians to join them, but the Belgians took one look at the Highlanders frying meat in the dead men's breastplates and ran off. They thought the Scotsmen were eating the Frenchmen!"
Contemporary accounts suggest that the Germans did have plenty to fear from the Scottish troops.
Stephen Graham, who was a private in the Scots Guards, recalled being told by an instructor: "The second bayonet man kills the wounded… You cannot afford to be encumbered by wounded enemies lying about your feet. Don't be squeamish."
Source: Scotsman.com
THE DISAPEARANCE OF THE IX LEGION
In the territory (in modern Perthshire), of a Pict tribe the Romans called the Vacomagi just below (according to Ptolemy), the territory of the Calidonii tribe, the IX Legion built a 53 acre 'great fortified camp' at Inchtuthil on the river Tay, called Pinnata Castra ( Fortress on the Wing ).
The word for wing that the Romans used in the name of the fort, is also used for the wing or feathers of a bird and it seems to be a reference to the wing of the Roman eagle - symbol of the empire. Fort on the wing [ fringe or edge ] of the empire. In modern terms the Romans perhaps felt themselves to be living on the edge, in more ways than one - especially as the fort was near the edge of their main enemy the Calidonii.
The fort was defended by a turf rampart 13 feet / 4 meters thick, and at the front by a stone wall 5 feet / 1.5 meters thick, with a ditch 20 feet / 6 meters wide and 6½ feet / 2 meters deep.
Although the Romans controlled large tracts of land they just couldn't conquer the country. In order to gain a wider control Agricola split his force into three groups. 'When Agricola learnt that the enemy's attack would be made with more than one army. Fearing that their superior numbers and their knowledge of the country might enable them to hem him in, he too [ like the Picts ] distributed his forces into three divisions, and so advanced.' Leading the Romans to believe that the Pict army had split into three divisions was a brilliant piece of Pict false information that had the desired effect of getting the Romans to split their forces - with dire results. It appears to have been the only mistake Agricola made during the invasion. When Agricola split his force into three, the IX [ Ninth ] Legion - who seem to have been especially hated by the Picts perhaps because of some heinous act of brutality - became the Picts main target.
There is some dispute as to what camp the IX were in when attacked, some believe Pinnata Castra ( which I favour ), but the prevailing view at present seems to be that it was their camp at Lochore in modern Fife. My argument for Pinnata Castra is that it was deeper into Pict territory, near the border of the Calidonii, but within reinforcing distance of the other camps particularly the large camp at Ardoch and so could be reached by Agricola relatively quickly, whereas Lochore was an earlier camp further south - not far enough into the main Pict territory and only about 35 miles from the legions winter quarters. It does not fit Tacitus' statement that Agricola distributed his forces into three divisions, and so advanced i.e. all three divisions advanced.
View a map where the location of many of the sites mentioned are shown CALEDONIAN MAP
Tacitus had written earlier that 'not a single fort established by Agricola was either stormed by the enemy or abandoned by capitulation or flight'. This was about to change. The Caledonians carried out a daring attack in the dead of night on the fortress of the sleeping Ninth Legion - it was payback time ! Tacitus doesn't admit that the Roman intelligence was wrong but that the Picts, 'suddenly changed their plan, and with their whole force attacked by night the ninth Legion.' They first set bodies of troops at key positions to intercept any fleeing Legionnaires and then advance units overpowered the guards. In Tacitus words, 'Cutting down the sentries, who were asleep or panic-stricken, they broke into the camp.'
The statement that guards were asleep appears to be another spin on the truth by Tacitus. It is very unlikely that any of the guards were asleep because they were inspected at regular intervals and also because the penalty for being asleep on guard-duty was death. It seems the advance attackers managed to open the main gates allowing the waiting united Pict army to pour into the camp in their thousands, there may have been as many as 20,000 or 30,000 of them. Tacitus says, 'the battle was raging within the camp itself.' No doubt the 5,000 Romans sought to quickly organised fighting units; probably numbers of men without officers banded together for their own safety and attempted to make a stand, but many groups of awakening disorientated legionnaires, separated from their unit and in mortal fear, were thrown into a confused terrified panic in which they could see only one course of action - escape from the confined death trap of the fort. Most of them wouldn't even have had time to put on their armour.
A messenger managed to get through the Pict line and Agricola eventually came to the rescue with cavalry units just in time to save the remnants of the IX; if not for his actions the Legion might have become extinct at that point. The fierce fight with the cavalry units at the gate of the fort was probably called off by the Pict leaders because day was dawning and because Roman infantry units were on route to relieve the IX.
Tacitus is ashamedly silent about the IX' casualty figures, which must have been several thousand at least. The Romans couldn't simply reinforce the IX from other units, probably because more than half the Legion had been lost. They had to bring in a replacement Legion, pull the remnants of the IX out of Caledonia, re-form the whole Legion and repopulated it with new recruits and officers. Given the circumstances of the attack and the major task of rebuilding the Ninth, the casualties could even have been as high as two out of every three legionnaires. As the depleted thin ranks of the Ninth assembled for roll call the next morning it must have been a sad, depressing event that deflated Roman pride as name after name was called - and no-one answered. It is little wonder that Tacitus recorded that Pict attacks like this one 'spread terror' among the Roman Legions: 'the native tribes assailed the forts' ( Note that the word 'forts' is plural ): 'and spread terror by acting on the offensive.'
Excavations between 1952-65 revealed that within 4 years (about AD 85 ) of the attack, the Romans - afraid that the Caledonians would melt down any iron they left behind and hammer them into weapons - buried in a 12 foot / 3.5 meter pit, a hoard of over 875,000 hand-made iron nails, ranging in length from 2 inches / 5cm up to 16 inches / 40.5 cm, with a combined weight of 7 tonnes. They then tightly filled up the drains and sewers with gravel, set fire to Pinnata Castra and abandoned the whole area.
The Emperor of Rome marshalled a renewed Ninth Legion and after the recall of Agricola back to Rome, he sent them for a few years of training and campaigning to battle harden them, (they were known as the 'Hispana' because they helped conquer Spain for the Roman Empire). The Emperor then sent them to teach the Caledonians a lesson about the power of Rome. The new IX Hispana Legion proudly marched north - and simply disappeared. Not one trace has ever been found of them or any of their equipment. Some historians have claimed that the IX was pulled out of Caledonia but the Romans forgot to record that fact. However, the Romans did not lose a Legion in the paperwork; something terrible seems to have happened to the IX, it is as if they just ceased to exist.
Perhaps they suffered the ultimate shame - the Picts annihilated the IX and captured the Legion's Standard and so the disgraced remnants of the Legion were disbanded, and all records of its fate were erased. Roman policy was not to publicly record the fate of legions that had been disgraced or annihilated in battle. These disasters were looked on by the people as bad omens concerning the Emperor's rule and could even lead to political instability. Modern claims that the IX have been rediscovered, could in fact be a different Legion with the same number ( the practice of different Legions sharing a number is not unknown to historians - the distinctiveness of each legion was in their honouree name e.g. Hispana ). The disappearance of the Ninth Legion is one of the mysteries of the Roman Empire, a mystery that continues to this day - and the finger of suspicion points firmly at the Picts. Several scholars believe that it would have taken a major catastrophic event to cause the emperor Hadrian to decide to build his famous wall in modern England; they argue that the catastrophe was the annihilation of the IX legion by the Picts. One last fact is interesting. An inscription discovered in Rome and dated between 161 AD - 180 AD, lists 28 legions in west to east order - the IX Hispana are absent from the list.
Although Tacitus does not mention Caledonia in this next quoted passage, he may have had it in mind, because he is referring to the period just after the invasion of Caledonia when Agricola had been summoned back to Rome. He writes of those days; 'so many of our officers were besieged and captured with so many of our auxiliaries, it was no longer the boundaries of empire and the banks of rivers which were imperilled, but the winter-quarters of our legions and the possession of our territories. And so disaster followed upon disaster, and the entire year was marked by destruction and slaughter.' Note the reference above to the attacks on winter-quarters - this was one of the main strategies of the Picts. Tacitus had earlier written that the Picts, 'had been accustomed often to repair his summer losses by winter successes.' About the time that Tacitus is referring to, Rome retreated from most of their alleged territory of Caledonia. Tacitus makes a ridiculous and unbelievable statement that Caledonia 'was thoroughly subdued and immediately abandoned.' The men of the IX legion and the other Roman officers and legionaries - died for nothing !
Source: The Sons of Scotland
Forename Variations
Variations in forenames are very common in the records. The name by which a person was born or christened, might look very different when they married or died. For example, Elizabeth might be known and/or recorded as Elisabeth, Eliza, Betty, Betsy, Beth, Bessie, Elspeth, Elsie, to name but a few. Some of the influences brought to bear on Scottish forenames are indicated below.
Abbreviations, Diminutives, Nicknames/pet names
Records are full of abbreviated forms of some forenames, e.g. William might be recorded as Will, Wm. or Willm., Charles as Chas., Margaret as Margt. or Mgt., James as Jas., Alexander as Alexr., and so on.
Also, diminutives, nicknames and pet names, if habitually in use, might be recorded instead of the proper name, e.g. Euphan/Eupham/Effy for Euphemia, Katie/Kate/Kath/Kathy for Katherine, Jamie/Jimmy/Jim for James, Maggie/Meg/Peggy for Margaret, Alec/Alex/Sandy/Eck for Alexander, Dod for George.
This is particularly prevalent in the Old Parish Register records, and probably more so in smaller parishes, where the person recording the information, usually the session clerk or the minister, would know the families in the area.
Anglicising forenames
It was very common for registrars in Gaelic-speaking areas of the Highlands and Western Isles to anglicise common Gaelic forenames, for instance recording Morag as Mary, Iain as John and Hamish as James. Gaelic-speaking families themselves, who migrated to urban areas, may also have anglicised their names.
Ambiguous names
Names that, today, we would normally associate with boys were occasionally (mainly in the North of Scotland) given to girls and vice versa, for example, Nicholas. Christian, viewed as a boy's name today, was quite a common girl's name in Scotland, and used as an alternative to Christina.
Sometimes during indexing of the Old Parish Registers, it was unclear from the name whether the child was male or female, particularly if the entry recorded "child of" instead of "son of" or "daughter of". Further confusion would arise if the name had been abbreviated and that abbreviated form could apply equally to a boy or a girl, e.g. Willm. might be William or Williamina. In such cases, a "U" for unstated was entered in the index to ensure that the wrong sex was not attributed. These "U" values are included in all Male, Female or Both Sex searches.
Many boys' names were transformed into girls' names by adding "ina", e.g. Thomasina, Georgina, Hughina, Jamesina, Williamina. These names might be abbreviated to Ina in later life. Williamina might become Mina.
Interchangeable names
Some names are completely interchangeable e.g. Agnes and Nancy, Donald and Daniel. Jane could be recorded as Jean, Jessie or Janet.
Early spellings may vary from later ones , e.g. Jannet, Jhonet, Jonat, Jonnet or Jonet instead of Janet, Margrat or Margret for Margaret, Henrie for Henry, Andro or Androw for Andrew, Alisoun, Alesoune, Alisone for Alison.
Traditional naming patterns
Scots often named children by following a simple set of rules:
1st son named after father's father
2nd son named after mother's father
3rd son named after father
1st daughter named after mother's mother
2nd daughter named after father's mother
3rd daughter named after mother
Although this was not universally applied (some families adhered strictly, others "dabbled" and still others ignored it), it can still be helpful in determining the correct entry when confronting the relative lack of information in the OPR's. It can also give rise to great confusion when eight children of the same family in a small parish name their offspring according to convention! The use of traditional naming patterns gradually declined during the 19th century.
The application of naming conventions and the general desire to ensure that a family forename perpetuated through the generations, sometimes led to duplication of forenames within a family. For example, where a family wished to adhere strictly to the traditional naming pattern, and both grandfathers bore the same forename, that name might be given to more than one child. If a child died young, parents might name a later child after the dead sibling. In unfortunate cases, the name may have been used more than once.
Sometimes there appears to be no rhyme or reason to the naming: a child might be named after the minister, the midwife, the doctor, an employer, an influential personage in the community or a close friend, who might appear as a witness to the birth. Witnesses are not always given in OPR entries, but where they are, sometimes (as in Dundee) you will find their relationship to child, if any, noted, e.g. "Charles Jobson, grandfather", "Mrs Janet Speid, father's mother".
Middle names
The existence of a middle name can be extremely helpful to the family historian. Parents might use the mother or a grandmother's maiden name as a child's middle name. However, do not assume that this name will appear in all subsequent records pertaining to that child. Consider also the possibility that a person might use his/her middle name as their first name in later life and be recorded as such.
Source: ScotlandsPeople
Stotfield was a small village/settlement to the west of Lossiemouth. On 25th December 1806 the village lost its entire fleet of three fishing boats in a violent storm. Each Skaffie boat had a crew of seven. The morning had been fair when the boats set sail for the fishing ground just a mile or two off-shore. However, the weather took a dramatic turn for the worse and violent winds from the South West blew the boats away from land and down the Firth. The boats were overcome by the violence of the storm and the village lost all of its able bodied men and youths in one afternoon. The boats and men which had the shoreline in their view were never seen again. The village was left with 17 widows, 47 orphaned children and 2 old men. A record of the disaster and memorial to those who died is contained in Lossiemouth Fisheries Museum. Stotfield never recovered from the disaster and no fishing boats have since set sail on Christmas Day.
Diseases and Medical Terms
Many of the causes of death and disease described in old Scottish death certificates from 1855 onwards, are still valid today. Others are more obscure or have fallen out of use in modern medical terminology.
Listed below are around 80  frequently used medical terms and causes of disease and death certified by medical practioners in Scotland, as written on actual Scottish death certificates:

Diseases on Scottish death certificates from 1855
| | |
| --- | --- |
| Abscess    | Formation of  pus in any part of the body, caused by infection |
| Anasarca  | Widespread swelling of the skin, often caused by heart or kidney failure |
| Aneurism    | Abnormal widening of an artery |
| Aortic aneurism  | Widening of the main abdominal artery often leading to rupture |
| Apoplexy | Bleeding in the brain as a result of a blood clot, a stroke |
| Aphtha   | Painful ulceration in the mouth |
| Arterio-sclerosis | Fatty deposits accumulating on the walls of  the arteries forming plaques (atheromas) |
| Ascites   | Excess fluid in the space between the abdomen and abdominal organs  |
| Asthenia | Loss of body strength, debility |
| Atherosclerosis | As for arterio-sclerosis (qv) |
| Atrophy  | A wasting away of tissue, for example atrophy of the liver |
| Boll hive    | A disease which killed infants (meaning presently unknown) |
| Bright's Disease | A disease of the kidneys |
| Broncho-pneumonia | Same as pneumonia, an inflammation of the lungs caused by an infection |
| Carcinoma | Cancer |
| Catarrh | Inflammation of the mucous membranes |
| Cerebral haemorrhage | Bleeding in the brain resulting in a stroke |
| Chin cough | Another name for whooping cough |
| Chorea  | Spasmodic involuntary movements of the limbs or facial muscles |
| Cirrhosis | Chronic disease of the liver causing scarring and liver disfunction |
| Consumption | Contagious bacterial infection in the lungs. Tuberculosis (TB) |
| Coronary ...  | Associated with the heart |
| Croup  | Hoarse cough in infants caused by swelling of the larnyx, caused by a virus |
| Debility  | A general weakened condition |
| Diabetes mellitus | Disorder characterised by elevated blood sugar levels |
| | |
| --- | --- |
| Dropsy  | Swelling from an accumulation of fluid, an oedema |
| Dyspepsia | Abdominal bloating - indigestion |
| Embolism | Blood clots travelling through the blood stream causing blockage of the renal artery to the kidney |
| Emphysema | Chronic respiratory disease of the lung air sacs |
| Endometritis  | Infection of the lining of the uterus |
| Erysipelas | Contagious bacterial skin infection, often on the face |
| Gastric ulcer | A break or tear in the tissue lining the stomach |
| Gastritis | Chronic or acute inflammation of the stomach  |
| General Paralysis | A euphemistic term for advanced syphilis causing death |
| Haemoptysis                 | Coughing up of blood  |
| Haemorrhage             | Excessive bleeding, often within an organ |
| Hemiplegia | Paralysis affecting only one side of the body |
| Hemophilia   | Hereditary bleeding disorder, taking a long time for blood to clot |
| Hydrocephalus | An excessive amount of fluid around the brain and spinal column |
| Hypostatic | Setting of the blood by gravitation |
| Icterus | Jaundice. Yellowing of the skin due to excessive bilirubin in the body |
| Ischaemic | Ischaemic means an organ, for example the heart,  not receiving enough blood and oxygen |
| Jaundice | Yellowing of the skin caused by too many red blood cells dying |
| Lobar pneumonia  | Pneumonia affecting one or more lobes of the lung, often due to streptococcal infection |
| Lumbar...  | Connected with the back or spine |
| Marasmus   | Severe protein-energy malnutrition |
| Medullary...    | Inner core of an organ |
| Mitral regurgitation | Heart's mitral valve fails to close properly, causing blood to leak into upper heart chamber |
| Morbus cordis | Heart disease (morbus-disease; cordis-heart) |
| Myelitis  | Inflammation of the spinal cord |
| | |
| --- | --- |
| Myocardial infarction | An area of the heart muscle dies as a result of a lack of sufficient oxygen, a heart attack |
| Myopathy | A muscle-related disease |
| Neonatal...       | Referring to a baby of up to 4 weeks old |
| Nephritis  | Acute or chronic inflammation of the kidneys |
| Neuralgia | Nerve pain caused by infection or inflammation |
| Oedema   | Fluid accumulation & swelling. See pulmonary edema  |
| Otitis media  | Infection of the middle ear |
| Palsy   | Progressive paralysis caused by damage to brain nerve cells |
| Paralysis | Loss of muscle function due to nerve damage |
| Paralytic ileus | Paralysis of the bowel wall resulting in blockage of the bowel |
| Peritonitis | Inflammation of the peritoneum, the lining of the abdominal cavity |
| Phthsis pulmonalis | Tuberculosis of the lungs, consumption . Also spelled phthisis |
| Placenta praevia | Condition of pregnancy in which placenta grows too close to cervix |
| Pleuritis | Pleurisy, an inflammation around the lungs due to bacterial or viral infection |
| Puerpural septicaemia | Infection in birth canal following childbirth, often causing death within 3 weeks |
| Pulmonary ...  | Associated with the lungs |
| Pulmonary edema | Fluid accumulation and swelling in the lung |
| Renal ...     | Associated with the kidneys |
| Sclerosis | Thickening or hardening of a body part, eg an artery |
| Scrofulosis   | A tuberculous infection of skin or bone |
| Senility   | Critical weakening and decrepitude of the body through old age |
| Seroma | Swelling caused by accumulation of serum in an organ or tissue |
| Syncope | Fainting, a temporary loss of consciousness due to a drop in blood flow to the brain |
| Stenosis | Abnormal narrowing , a stricture , of a blood vessel or other tube such as the urethra. |
| Tabes mesenterica | Type of tuberculosis of the lymph glands |
| Thrombosis | Presence of clots in a blood vessel or in a heart chamber  |
| Tympanitis | Infection of the inner ear membrane |
| Vascular...       | Associated with the blood vessels |
Source: ScotlandsFamily